Bedonna's Stallion Station and Performance Horses
HOME
FOR SALE
STALLIONS
Broodmares At Ranch
2012 Foals
2013 Foals
2014 Foals
Horse and Foal Sales
All Sales and Visits are by Appointment.
Call 580-471-4040 to schedule appointments.
Customers in Most States!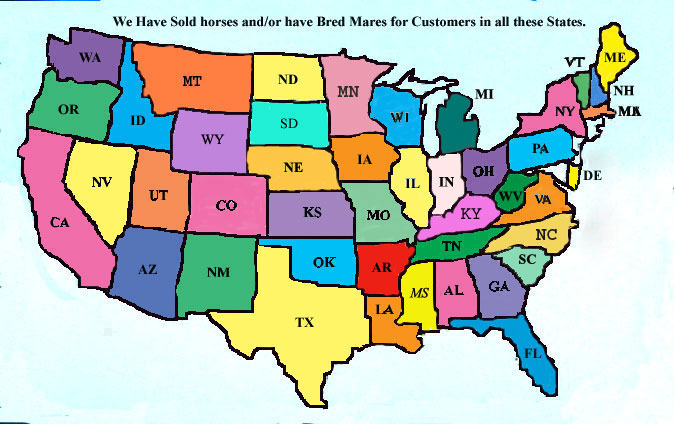 I now have several customers in
Mexico, Canada, England, Australia, Wales,
France, and Czech Republic too!
And now customers in Hawaii, Alaska, and Brazil !

If you are from NJ, CT, MD, or RI I'll take at least $100 off the sale price if you buy a horse! I'm trying to have customers in Every state!
Several years ago, I began offering a payment plan for the newborn foals. This was a very popular payment plan for my customers, and it has been offered every year since.
Payment Plans for Foals, Yearlings, and grown horses are also considered. The time of the year, or if broodmares are in foal, breeding season, etc. may effect whether I'm willing to do payments or not. With a payment plan however, I am usually not as negotiable on the prices. I am more negotiable on prices for cash sales with immediate pick up.

This is how the payment plan works...
Payment Plans and Terms of Sales
for ALL Foals and Horses

Newborn Foals- This option is for buyers who select a new born foal and plan to pick up the foal at weaning age. You select the foal you want. A non-refundable deposit is accepted to hold your foal for you, and take it off the market. Minimum deposit is 25% of the purchase price or at least $500 (whichever is higher). Monthly payments on the foal are required with the balance due by weaning age/ 4 months old. I keep the foal until weaning age or around 4 months old, and you pick up the foal at weaning time.
If the foal is picked up at weaning time, then there will be no additional charges for feed, or care.
If we agreed to set up the payments to extend beyond the age of 4 months, then Board will be charged for the foal after the age of 4 months.
Foals are given de-wormer periodically. If vaccinations are wanted, then they can be done at buyer's expense.
Weaned Foals, Yearlings and adult Horses- You select the foal/horse that you want. A non-refundable deposit is accepted to hold your foal/horse for you, and take it off the market. A 'Package Deal' Price on horses will be treated as a unit, and will be sold as a group. Minimum deposit is 25% of the purchase price or at least $500/horse (whichever is higher). Monthly payments and monthly feed bill are paid on the foal/horse, or group of horses. The cost of feed/care, vaccinations, worming, etc. will be the responsibility of the buyer during the payment period. The foal/horse or horses can be picked up after paid in full, and expenses are paid.

The below terms and conditions of sales apply to all sales including sales with payment plans.
Terms of Sales (for ALL Sales)
Terms of Sale- These are a few things that apply to All Sales. Please read carefully. These conditions are to protect both the Buyer and the Seller.

Seller offers a Payment Plan and Boarding until pick up as a service and convenience to customers. However, Over the years... I have had buyers abuse this privilege, fail to pick up horses when scheduled, buy horses and Never pick them up, fail to pay expenses or vet bills, etc. so the 'Terms of Sale' apply to ALL FOALS and HORSES sold.

1. Deposits are required to hold a horse for a buyer and take it off the market. If the Buyer if offered a 'Package Deal' on a group of horses, then those horses will be treated as a Unit, and sold as a group. Deposits are non-refundable. Minimum deposit is usually $500/horse or 25% of purchase price (whichever is higher). Details of agreement, such as Payments, Payment Due Dates, and Deadlines can be written in an email or can be verbally discussed over the phone, and will serve as the agreement, along with these 'Terms Of Sales'.
2. For your Convenience, several forms of payment are accepted.
Cashier's Checks, Money Orders, and Cash are always accepted. I am also more negotiable on prices with these forms of payment. I no longer accept personal checks or business checks. I can however accept Bank Wire Transfers which is an affordable and very safe option. Another option for your convenience is Credit Cards or Debit Cards. I can accept Visa, Master Card and Discover. A Convenience/Office processing Fee applies to sales. This Convenience Fee runs 5% for sales within the US States, and 6.5% on all European, Canadian, and other non-US sales. PayPal can also be accepted if Buyer pays PayPal processing Fees OR adds 5%/6.5% to cover those fees. Convenience/Office processing Fee is Waived for Cash, Cashier's Checks, Money Orders, and Bank Transfers, but applies to other forms of payment.

3. Vet exams prior to purchase are always welcome. I have nothing to hide, and buyers are welcome to have horses tested for anything they want and x-rayed from one end to the other if they wish... as long as the buyer pays the vet bill. All Vet exams, Farm calls/Trip charges, Coggins Tests, Health Certificates, or other vet expenses are at buyer's expense.
(as of 1/01/14... a regular Coggins test costs $25 each (extra for 'Rush Coggins'), an Interstate (USA) Health Certificate costs $25, and the farm call to do this costs $32.) International Health Certificates to Canada are currently running $110 or more. If the buyer wishes to have other services done, such as additional vaccinations, it can also be arranged at buyer's expense. Buyer's may also request an Ultrasound on any pregnant broodmare to recheck and confirm pregnancy status. These complementary ultrasounds will be done at the ranch by Bedonna free of charge.

4. I have had many buyers over the years promise to come and pick up horses quickly, only to leave them here for a long period of time. I have a hard enough time paying for all the feed and care of all my horses, so I can't afford to take care of everyone else's horses too. Therefore, Board charges apply to all horses until they are picked up. If horses are picked up very quickly, then Board charges are usually waived. The Board charges cover the Feeding, Watering (which usually has to be trucked to horses), and management of any 4 mo. old or older foal, yearling, or horse. Typically the Board fee is no less than $6 per day per horse and up to $18 per day per horse. Charges vary depending on current feed costs, and if purchase is a foal, mare, or stallion. Board begins the day the seller and buyer make a deal for a sale (or day foal turns 4 mo. old), and it applies until the horses are picked up. Board charges are due monthly (in advance) to continue the sale.
5. I try to keep my horses in clean pastures and corrals with safe fencing to avoid any chance of injury. I also am very careful about bringing new horses onto the property to avoid any illness. But, Seller is not responsible for accidents, injury, or illness to foals/horses during the payment or boarding period prior to the foal/horse being picked up. I also understand the buyer's concerns and if a foal/horse dies during the payment period, then moneys paid toward the purchase of that foal/horse may be refunded or applied toward the purchase of a different foal/horse. Insurance on Valuable horses may be required at Buyer's expense for a lengthy payment plan.

6. Transportation of the foal/horse is the responsibility of the buyer. Buyer can personally come to pick up the foal/horse, or can send a hired Hauler to pick up the horse. The buyer chooses the Hauler and assumes all responsibility and risk during transport. If Buyer does not know where to hire a Hauler, I can assist in arranging transport. However, choice of Hauler is still up to the buyer.

7. If Seller agrees to allow a Payment Plan for the sale, then the schedule of Due Dates and Deadlines as agreed must be followed. I've had customers send a deposit, then I take the horse, or a group of horses, off the market... meanwhile I could have sold the horse or horses to a different customer... only to find out later, that the original buyer could not complete the sale. So, now I work with the buyer to set up a payment plan that will work for the buyer, but I must also have deadlines in place. If payments, balance, board or expenses are not paid by due dates and/or a minimum of every 30 days... any and all moneys paid will be forfeited, the sale will be cancelled, and the seller is free to immediately re-sell foal/horse or package of horses to another buyer. Sales will be cancelled and deposits/payments will be forfeited if Buyer does not make payments a minimum of every 30 days, and pay Board/expenses every 30 days.
8. Buyers are asked to pick up or have foal/horse or horses transported as soon as possible. I have actually had people buy horses and NEVER come to get them or buy them... promise to come get them soon, and leave them here for many weeks or months. So, this has forced me to set deadlines for getting horses picked up. Buyers are allowed up to 30 days to pick up the foal/horse or horses they bought. The 30 days begins the day Buyer and Seller agree to the sale. However, If the buyer is paying for foal/horse or horses with an extended Payment Plan, or buying a newborn foal to be weaned at 4 mo. old, then the buyer is allowed 15 days after the last payment due date to pick up foal/horse, unless arrangements have been made. With a Payment Plan, there will be several weeks or months to prepare for transport of foal/horse or horses. Regular Board charges apply during this time. If the balance of the purchase price and expenses for foal/horse or horses have been paid on time and in full, but the Buyer fails to have the foal/horse or horses picked up during the allowed 15 or 30 days, then Sale will enter into a 15 day 'Sale Pending' period. During this extended 15 day time, board charges will be Doubled per day, per head. During this time, Buyer Must pay additional charges and must pick up foal/horse or horses immediately, or foals/horses will be considered Abandoned. If a foal/horse, or a Group of horses if sold as a Package deal, is Abandoned, the sale/sales will be cancelled, no refunds will be given, and the seller is free to immediately re-sell foal/horse or horses to another buyer. Buyer may also be responsible for additional Board or Vet expenses incurred by the seller prior to foal/horse or horses being abandoned.
9. Ownership of foal/horse will remain with the seller along with any Registration Papers, Registration Applications, and/or Transfer until after foal/horse has been paid in full, any board and expenses have been paid, and foal/horse has been picked up. Foal/Horse will not be allowed to leave ranch unless paid in full and all expenses are paid.
10. When a Buyer purchases a foal/horse from Bedonna Dismore, the above 'Terms Of Sale' along with any additional 'Purchase Agreements' Buyer and Seller agree on will apply. All Foals/Horses are sold 'As Is, Where Is' unless other written guarantees are given. Often broodmares come with a Live Foal Guarantee, and often mature/working stallions come with a Fertility Guarantee. Buyer will be notified of any previous injuries or illnesses to all foals/horses. We can put any guarantees in writing. All sales will be governed by the laws and courts of Tillman County in Oklahoma if a disagreement arises.


All Sales and Visits are by Appointment.
Call 580-471-4040 to schedule appointments.





Visa, Master Card, and Discover Credit & Debit cards accepted for purchases.
Pay-Pal is now accepted.
Convenience/Office processing Fees apply.


I NO LONGER accept Personal or Business Checks.
I do accept Cashier's Checks, and Money Orders and Bank Wire Transfers.
(Green Dollar Bills and Cashier's Checks always get you the best prices.)
Convenience/Office processing Fees Waived for these types of payment.
Links:
HOME FOR SALE STALLIONS Broodmares At Ranch
2012 Foals 2013 Foals 2014 Foals
© 2014 Bedonna's Performance Horses
Hosted by iPowerweb // Originally Designed by Rony Pony Web Design
Maintained, Edited & Updated Daily by Bedonna

NO Pictures, Text, Graphics, or Information from this site may be used, borrowed, or taken,
without written permission from Bedonna Dismore.